Valentines for Soldiers
Want to make someone feel extra special this Valentine's Day? Send a Valentine to a soldier stationed overseas!
Help Us Brighten a Soldier's Day
We are collecting Valentines for soldiers to show support and love from home to troops stationed overseas this Valentine's Day. Nominate your soldier and their unit to receive Valentines from all of Central Wisconsin. We are accepting Valentines at our station located at 557 Scott Street, Wausau.
Be creative, have fun and help us brighten the day of those who put their lives on the line for us, our families and our nation.
Valentine Card Tips
Ready to make some Valentines? Great! Keep these helpful hints in mind when putting together your Valentines: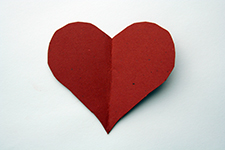 Cards may be purchased or handmade. Envelopes are not necessary, but if you do use them, please leave unsealed for security purposes.
Military personnel love to communicate with us! Cards from children can include a first name, an adult email or postal address if you wish.
Photos of the sender, sender's family, church, or classroom participants can add a personal touch to your card.
Keep your messages positive! We check each card before it is shipped overseas.
Hand & Toe Warmers (any kind -- found at retail stores such as Walmart, sports/camping, etc.)
And, what would Valentine's Day be without candy? Chocolates are okay to send as this is a winter holiday.
Also, soldiers overseas don't have access to cards for Easter, Mother's and Father's Day and sending blank cards over for them to send home would be a great idea.
Valentine card tips provided by Hugs for Soldiers. They offer ways in which you can support the troops all year round!
How To Send Your Valentine
Please have your Valentines all ready and in to us by February 6th so we can package them up and get them over in time for Valentines Day.
Once you are done making your Valentine(s), you can drop them off in our Valentines for Soldiers donation box in the lobby of our office, or you can mail them to us, if you prefer:
Midwest Communications
ATTN: Vanessa Ryan
557 Scott Street
Wausau, WI 54403
If you have any questions about Valentines For Soldiers, please email Vanessa Ryan at vanessa.ryan@mwcradio.com. Thank you so much!
Nominate a Solider