The Ultimate Backyard Barbecue
It's a sizzling summer and WDEZ wants to make sure
your backyard is the place to be!
Sizzle Up Your Summer
Great food cooked right with perfect back yard decorations makes for the Ultimate Back Yard BBQ. That's what our lucky winners will get this summer!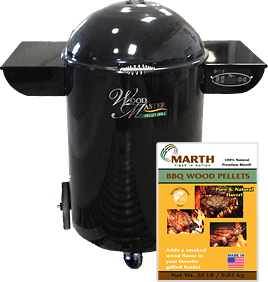 We're sending 5 lucky winners home with a supply of Natural Omega 3 hamburgers, hot dogs buns and cheese for a party of 15 from Omega Valley Farmers.
You will be cooking these delicious meats to perfection because you will also receive a supply of Marth Wood BBQ Cooking Pellets. These pellets add a pure, natural smoked wood flavor to all your grilled foods.
It wouldn't be a party without decorations so our five winners will each receive a $100.00 gift certificate from Marathon Town and Country in Wausau. Visit their store and pick out the perfect decorations for your backyard!
But we're not done! One lucky Grand Prize winner will receive a brand new Wood Master D400 Pellet Grill, (a $995.00 value) to go along with their Omega Valley Farmers meat, cheese and buns, the Marth BBQ pellets and a special selection of over $350.00 worth of backyard decorations like, garden gazing balls, decorative bird baths, wind chimes and more from Marathon Town and Country of Wausau!
For more details on the grill, check out the Wood Master Deck Pellet Grill manufacturer's product page.
There are Three Ways to Win
Listen for the Sizzlin' Summer Sound

Starting June 25th, listen for the 'Sizzling' Summer sound on WDEZ and when you hear it be caller #9 to 800-644-1019. At the end of each week we'll announce one lucky winner.

Enter Online

Starting July 23rd, enter online once per day and we'll drawn another winner at the end of the week.

Text the Keyword of the Day

Starting August 13th, listen during the Bryan & Nikki Morning Show for the text keyword of the day. When you hear it, text it to 39327. We'll draw our final prize winner on Friday, August 24th.
All non-prize winners will be entered into the Grand Prize for the Wood Master Pellet Grill drawing on August 25th, location to be determined.
For complete details, please see the full-length, official rules.