« Shows & Personalities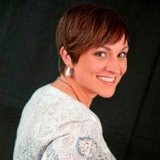 Nikki Montgomery
On Air:

Weekdays, 10am - 2pm

Email:

Social:
I'm a Central Wisconsin girl born and raised. I grew up in Port Edwards and participated in cheerleading, basketball, volleyball and softball as well as many clubs like National Honor Society, SADD, yearbook and forensics. I was a very busy high school student and still managed to get good enough grades to go to college at UW-Stevens Point where I was just as busy between working 3 jobs including executive staff positions at the campus radio station and volunteering at the campus television station.

After graduation I thought I would take my BA in Mass Communications with emphasis in Broadcasting and Journalism and Minor in Political Science and become a big time reporter in some major city. But instead my internship with our news station here at Midwest Communications turned into a part-time job and opened the door to the morning show co-host position at WDEZ. After 9 1/4 years of fun in the mornings I was promoted to Assistant Brand Manager and moved to The Workday Getaway.

I'm so happy that I stayed in Central Wisconsin I couldn't imagine raising my three daughters anywhere else.