« Shows & Personalities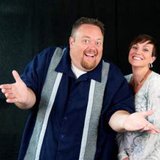 Bryan and Nikki in the Morning
On Air:

Weekdays, 5am - 9am

Hosts:

Bryan Scott, Nikki Montgomery
About the Show

Bryan and Nikki in the Morning is not like your typical radio morning show. Bryan and Nikki believe in making YOU the star of the show. They invite you to call in (800-644-1019) or text (39327) anytime you have a comment or something you'd like to share.

Show Hosts

Bryan Scott

Bryan is the poster boy for why you should go to college and further your education...he did not! He believed someone, somewhere, would pay him for doing something he really enjoyed doing.

Bryan soon realized there's not much demand for football watching, beer drinkers. However, despite having no marketable skills, Bryan was lucky enough to find a job that allows him to do two other things he really enjoys...having fun and listening to great music.

"I hope I never have to get a real job. I've been in radio for over 15 years playing everything from country, to oldies, to rock and now back in country. Radio has always been a huge part of my life. However, it's nothing compared to the joy that my wife, Addi, and our three children continue to give me every day." - Bry

Nikki Montgomery

I'm a Central Wisconsin girl born and raised. I grew up in Port Edwards and participated in cheerleading, basketball, volleyball and softball as well as many clubs like National Honor Society, SADD, yearbook and forensics. I was a very busy high school student and still managed to get good enough grades to go to college at UW-Stevens Point where I was just as busy between working 3 jobs including executive staff positions at the campus radio station and volunteering at the campus television station.

After graduation I thought I would take my BA in Mass Communications with emphasis in Broadcasting and Journalism and Minor in Political Science and become a big time reporter in some major city. But instead my internship with our news station here at Midwest Communications turned into a part-time job and opened the door to the morning show co-host position at WDEZ. After 9 1/4 years of fun in the mornings I was promoted to Assistant Brand Manager and moved to The Workday Getaway.

I'm so happy that I stayed in Central Wisconsin I couldn't imagine raising my three daughters anywhere else.