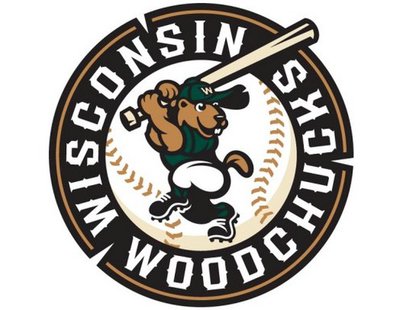 The Woodchucks scored three runs in the top of the first inning and never looked back, as they rode a timely offense and stellar pitching from starter Robby Medel and three relievers en route to defeating the Madison Mallards, 7-2, Tuesday night at Warner Park.
The victory, paired with La Crosse's loss at Willmar, moved the Woodchucks (17-10) to just a game and a half back of the first place Loggers and Lakeshore Chinooks in the Northwoods League South division, with seven games remaining in the first half.
Shortstop Eric Garza led off the Chucks' half of the first inning by reaching on an error on Madison second baseman Robbie Tenerowicz. Garza went to second on first baseman Jake Scudder's single, and with one out designated hitter Brendon Hayden loaded the bases with a single to left. Third baseman Paul DeJong got the scoring started on a ground ball through the left side, giving Wisconsin a 1-0 lead with the bases still loaded.
Left fielder Nate Mondou picked up an RBI by reaching on a fielder's choice out, and when he stole second base, Hayden came down from third, credited with a steal of home, giving the Chucks the 3-0 advantage.
Madison (15-11) answered with single tallies in the each of the first two frames against Medel, who then fired three scoreless innings.
Catcher Jack Klages drew a bases-loaded walk in the sixth inning, making the Chucks' lead 4-2. In the seventh, Mondou's two-out, two-run double made the score 6-2, while DeJong's two-out RBI single in the ninth inning, his fourth hit of the day, gave the Chucks the 7-2 lead.
Medel improved to 2-0 this season by firing five innings, surrendering just two runs on six hits, while striking out five and walking one.
Relievers Patrick Kenney and Sam Mahar fired scoreless sixth and seventh innings, respectively, while Kaylor Chafin worked around two singles in the ninth, closing out the game over the final two innings.
DeJong's four hits led the offensive charge, while Scudder, Hayden and Mondou each tallied two hits. DeJong tallied two RBIs, pushing his season total to 24, while Mondou had a season-high three and Klages one.
The Woodchucks are back in action Wednesday in the finale of their two-game series with the Mallards. First pitch from Warner Park is scheduled for 7:05 P.M. You can hear the game on Foxsports radio AM1390 & FM 93.9 at 6:45.
Rest Of NWL Scores
Thunder Bay 8 Duluth 4
Thunder Bay 12 Duluth 6
Lakeshore 9 Battle Creek 0
Rochester 4 eau Claire 3
Wisconsin Rapids 5 Green Bay 3
Kenosha 12 Kalamazoo 5
Waterloo 4 Mankato 3
St. Cloud 3 Alexandria 2
Willmar 4 La Crosse 2