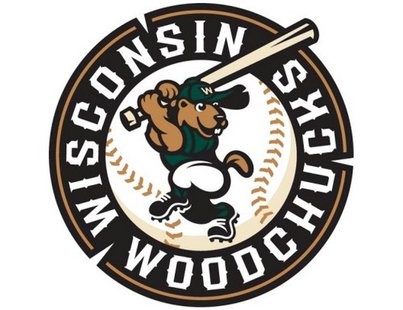 Ninth-inning doubles from second baseman Eric Garza and center fielder Derek Peake began the Woodchucks' comeback, and they held on to defeat the Kalamazoo Growlers, 7-5 in 11 innings, Tuesday night at Homer Stryker Field.
The two doubles tied the game, 4-4, before first baseman Brendon Hayden laced an RBI single to left to give the Chucks the ninth-inning advantage, 5-4.
Kalamazoo tied it in the bottom half, forcing extra innings. However, a blend of effective at-bats from Woodchucks' hitters and ineffective pitching from the Kalamazoo bullpen allowed the Chucks to take the lead in the top of the 11th. Third baseman Paul DeJong drew a bases-loaded walk, spotting the Chucks to a one-run lead, and designated hitter Jake Scudder's sacrifice fly made it 7-5.
Closer Max Ising took it from there, as the Creighton product nailed down his ninth save of the year by striking out the side in order in the bottom half of the inning.
The Woodchucks got on the board first in the top of the first inning, when catcher Zach Arnold launched a solo homerun to left center field, his second homer of the year and the first of his four hits on the day.
Kalamazoo then got a three-run homerun of their own from designated hitter Jesse Puschek to take the lead, before Wisconsin countered with Arnold's RBI single and shortstop Ryan Howard's solo homerun, his second of the year, tying the game, 3-3.
Growler catcher Brett Sunde's third homerun of the year spotted Kalamazoo to a 4-3 advantage in the fourth inning, and that would remain the score until the top of the ninth.
The win went to Austin Tribby in relief, as the Chucks' southpaw fired a scoreless 10th inning while striking out two. Offensively, in addition to Arnold's 4-for-5 performance, Wisconsin received multi-hit efforts from Peake (2-for-5), Hayden (2-for-5), Garza (2-for-5) and right fielder Connor Beck (2-for-5).
The Woodchucks will close out their five-day roadtrip with the second of two against the Kalamazoo Growlers at Homer Stryker Field on Wednesday night. First pitch is scheduled for 6:05 P.M. You can hear the game on Foxsports Radio AM1390 & FM 93.9.
Rest Of NWL Scores
Lakeshore 2 Wisconsin Rapids 0 (Domenic Mazza of Rapids threw a no-hitter but lost on 3 errors)
Rochester 9 Mankato 2
Eau Claire 5 Thunder Bay 3
Duluth 4 Willmar 0
Battle Creek 12 Kenosha 1
Waterloo 11 St. Cloud 5
Madison 7 Green Bay 6
Alexandria 3 La Crosse 1