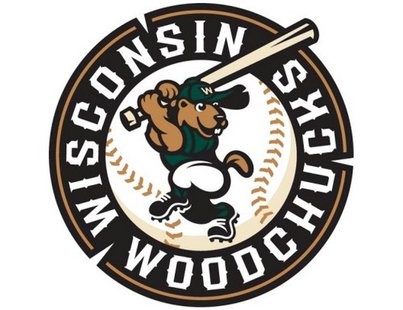 Wausau, WIS – The Wisconsin Woodchucks' three, four, and five batters recorded all seven RBIs en route to defeating the Kensoha Kingfish, 7-4.
Paul DeJong gave the Woodchucks (7-4) an early 2-1 lead when he hit a high fly ball that carried right out of the ball park to center field. The hit was Dejong's Northwoods League leading 13th home run on the season.
The Kingfish answered with a run of their own in the top of the third inning when Pat Porter hit a ground ball to first base evening the game up at two.
A pair of solo home runs in the bottom of the third inning gave the Woodchucks a 4-2 lead. The first was by Brendon Hayden and two batters later Jake Scudder went deep.
Hayden and DeJong had RBI singles in the top of the fourth inning extending the Woodchucks' lead 6-2.
Hayden continued his great night with a double bringing home Connor Beck giving the Woodchucks a 7-3 lead. Hayden finished the night 3-for-4 with a home run, double, and single while driving in three runs.
Hayden, DeJong, and Scudder, the Woodchucks' meat of the order, drove in all seven runs.
The Woodchucks wrap up their four-game home stand on Friday night against the Kingfish. First pitch will be set for 7:05. You can hear the game on Foxsports Radio AM1390 & FM 93.9.
Rest Of NWL Scores
Eau Claire 8 Thunder Bay 5 (11 innings)
Waterloo 9 Kalamazoo 4
Wisconsin Rapids 3 Madison 1
Lakeshore 3 La Crosse 2
Duluth 10 Mankato 4
Green Bay Battle Creek 0
Rochester 5 Alexandria 4
St. Cloud 8 Willmar 5 (10 innings)