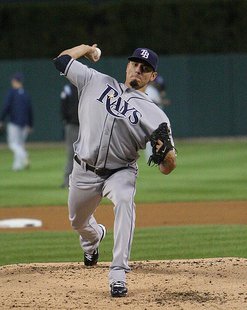 MILWAUKEE, WI (LEARFIELD-WSAU)The Milwaukee Brewers denied last night that they reached a contract agreement with free-agent starter Matt Garza. Major League teams do not officially announce a contract signing until the player passes his physical. But rarely will teams deny agreeing to deals like the Brewers did, when they said talks with Garza are quote, "ongoing but there is no deal yet."
Various media reports yesterday said the two sides agreed to a four-year, 52-million dollar contract with Garza -- which would be the largest deal for an incoming free agent in Brewers' history.
Garza, a 30-year-old right-hander, went 10-and-6 last year with the Chicago Cubs and Texas, with an E-R-A of three-point-eight-two in 24 starts. He's had injury problems in recent years.
He missed the first seven weeks of last season with a strained muscle behind his left shoulder. Garza was also on the disabled list three other times since 2009 due to elbow problems. Even so, he's considered one of the top pitchers on the free-agent market this winter.