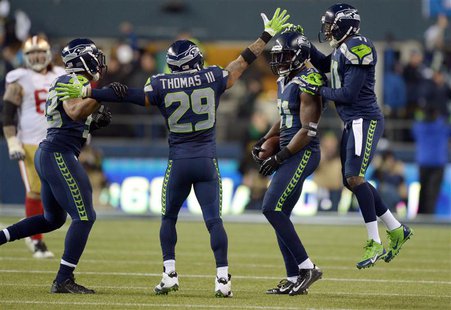 Seattle, WA (WSAU-TSN) - Russell Wilson threw a 35-yard touchdown pass to Jermaine Kearse in the fourth quarter and the Seattle Seahawks scored 10 unanswered points Sunday to beat the San Francisco 49ers 23-17 in the NFC Championship Game. Malcolm Smith intercepted 49ers quarterback Colin Kaepernick in the end zone in the final minute to seal Seattle's second Super Bowl trip.
The Seahawks will face Peyton Manning and the Denver Broncos on Sunday, Feb. 2, at MetLife Stadium in East Rutherford, N.J. Denver beat New England 26-16 in the AFC title game Sunday.
Peyton Manning broke Tom Brady's single- season record for touchdown passes and then one-upped him in the AFC Championship Game. Manning threw for 400 yards and two touchdowns and the Denver Broncos defeated the New England Patriots 26-16 on Sunday.
Manning completed 32-of-43 passes for the Broncos, who will appear in their seventh Super Bowl.Manning is 5-4 in his last nine matchups against Brady -- including the postseason -- after dropping the first six meetings between the two future Hall-of-Fame quarterbacks. They have both won a pair of home playoff games against one another. Manning's 55 touchdown passes surpassed Brady's single-season mark of 50.
Sunday's game marked the third AFC Championship Game meeting in the last 11 years between the two, dating back to the 2003 season when Brady's Patriots got the best of Manning's Colts.