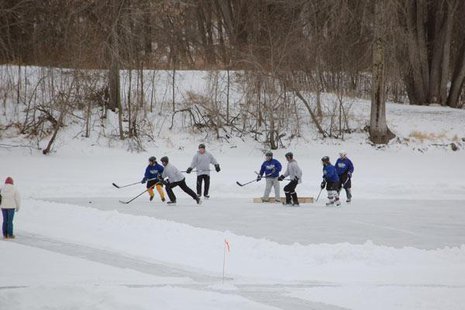 WAUSAU, Wis. (WSAU) - A winter sport that is getting more popular returns to Wausau . It's pond hockey. The Leinenkugel's Classic Adult Pond Hockey Tournament lands on Sunnyvale Lake this weekend. Sports Authority Sales Director Richard Barrett says it wasn't that long ago when the game could be found in Wausau and Eagle River, but now it's expanding to other areas.
Barrett says they're making a big addition this year for the fans. "This year we have a 40 by 160 foot tent set up on the beach at Sunnyvale lake, and it's heated with a 1.2 million BTU furnace. So you can come out and watch some pond hockey and come back inside and keep warm."
Barrett says Pond Hockey is quite a bit different from traditional hockey. "It's only 4 on 4, there's no goalies, the goals are only 6 inches high, with a 6 foot board in front with two one foot holes you gotta get the puck in. And it's a fast paced game, the whole game only lasts 30 minutes."
Barrett says this sport draws more players and spectators each year, and has the potential to be big. "The Pond Hockey is growing, it's a big craze right now. When we started, it was just us and Eagle River in the state of Wisconsin. Now there's a possibility of having 6 different pond hockey tournaments in the state of Wisconsin."
One of the most popular features of the Leinenkugel's Classic tournament started last year by accident. The weather was rainy by day, which forced the organizers to rent large lights and play more games at night when the ice was more solid. Now, Barrett says the night games are popular, and every team will have at least one night game.
When the Wausau tournament began a couple of years ago, they had 14 teams. Last year, that jumped to 40 teams. So far this year, 48 teams from five states are registered, including three women's teams. The action starts this Friday and lasts through Jan. 19 on 12 rinks.