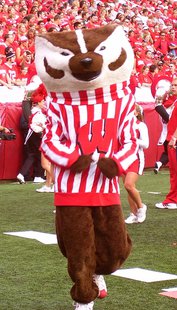 MADISON, WI (LEARFIELD-WSAU) The man who helped Montee Ball, James White, and Melvin Gordon become top-flight running backs for Wisconsin is apparently moving on to the N-F-L.
Coaching-Search-Dot-Com said Badgers' running backs' coach Thomas Hammock is leaving to take the same job with the Baltimore Ravens. The 32-year-old Hammock has been at Madison for three seasons.
He has also been the Badgers' assistant head coach and recruiting coordinator. Hammock has not commented. On this National Signing Day, the Wisconsin football team brought in three running backs for a new assistant to coach -- Ula Toldau of Glendale Utah, Taiwan Deal of Capital Heights Maryland, and Caleb Kinlaw of Goose Creek South Carolina.
The Badgers announced a 29-member recruiting class as of early afternoon, seven of whom joined the U-W a semester early. They include walk-on linebacker Chasen Andersen, son of Badgers' coach Gary Andersen.
The recruits from Wisconsin include offensive linemen George Panos of Hartland Arrowhead, Beau Benzschawel of Grafton, and Jacob Maxwell of Greendale -- linebacker Jaden Gault from Cottage Grove -- and defensive linemen Billy Hirschfeld of Okauchee and Connor Sheehy of Milwaukee.
Three-of-the-four walk-ons are also from the Badger State -- linebackers Justin Schweitzer of Silver Lake and Matt Austin of Fond du Lac Springs, and offensive lineman Brett Connors from New Berlin West.