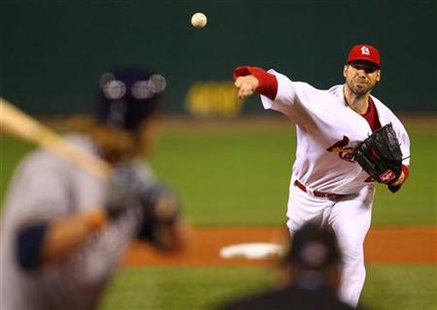 MILWAUKEE (WSAU-TSN) It really isn't a surprise that the St. Louis Cardinals have been able to cool off the previously-streaking Milwaukee Brewers.
The Cardinals seek a three-game sweep of their NL Central rival on Wednesday afternoon.
Milwaukee had won nine in a row and was off to a 10-2 start before losing the first two games of this set. St. Louis rolled to a 4-0 victory in Monday's opener, then got another solid pitching effort in last night's 6-1 triumph.
The Cardinals have now won 31 of their last 43 meetings with the Brewers dating back to August of 2011.
"(Milwaukee) is a good team and we don't take anything for granted," said St. Louis manager Mike Matheny. "We just have to keep our focus that we have."
Shelby Miller allowed a run over six solid innings with seven strikeouts, while Jhonny Peralta hit a two-run homer and Matt Holliday a solo shot. Mark Ellis, activated from the disabled list prior to the game following a bout of left knee patella tendinitis, drove in two runs in his season debut.
St. Louis has won four in a row, including the first two of an 11-game road trip that next features four games versus the Washington Nationals.
Marco Estrada gave up three runs on five hits over six innings and Aramis Ramirez hit a solo home run for the Brewers, who have managed just six hits through the two games of this series.
"I think as well as we were swinging the bats it's too early to panic," said Milwaukee manager Ron Roenicke. "It's still young in the season and there's going to be times where you run up against good pitching."
Roenicke's club runs into another solid pitcher today in Joe Kelly, who has a 0.79 earned run average through his first two starts of the season.
Brewers gameday coverage begins at 11:35am on AM-550 FM-99.9 WSAU. The Rest of Rush follows the Brewers post-game show.