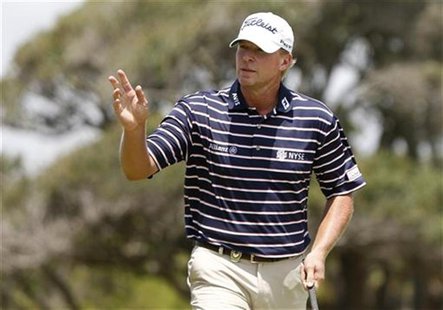 LAKE FOREST, ILL (LEARFIELD-WSAU) After a week off, the P-G-A playoffs resume today. Steve Stricker of Madison is the only Wisconsin golfer still in the running for the Fed-Ex Cup title. He's eighth in the standings, going into the B-M-W Championship which begins today in Lake Forest Illinois, north of Chicago.
The Top-70 will compete this weekend, and the Top-30 will go for the crown next week at The Tour Championship near Atlanta. Because of his point totals, Stricker is assured of a spot in next week's title event. And he says he'll play, canceling an elk hunting trip he scheduled with his friends.
Stricker is on a limited schedule this year, so he could spend more time with his family and things like hunting. But at this point of the playoffs, Stricker said it wouldn't be fair to himself or other players to skip out.
Stricker also wants to keep his game up, since he'll compete for the U-S in the President's Cup next month.