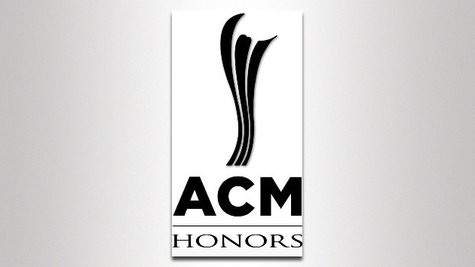 The 7th Annual ACM Honors took place Tuesday night at Nashville's Ryman Auditorium with Blake Shelton , Lady Antebellum and Jason Aldean among the acts recognized for their career achievements. There was plenty of music throughout the three-hour show, hosted by Dierks Bentley for a second year in a row.
Lady A's Charles Kelley and Dave Haywood delivered an acoustic performance of songs written by their friend, ACM Songwriter of the Year Dallas Davidson , including Jake Owen 's "The One That Got Away" and Luke Bryan 's "I Don't Want This Night to End" as well as their own hit, "We Owned the Night." Dave and Charles also accepted the Jim Reeves International Award from presenter Darius Rucker for taking their country music around the world on tour over the last few years.
Before the show, Dave and Charles explained their fellow group member, Hillary Scott , thought about making a special appearance at the ACM Honors, but she still needs time at home with her new baby, Eisley , who arrived in July. Dave and Charles have been regulars at Hillary's house lately.
Says Charles, "It's been kind of fun for Dave and I to go over there. We're kind of working, but then we're also kinda watching her be a mother, and she's really great at it. So, it's been a fun experience, but she'll be ready to go here soon."
Blake Shelton was honored with the Gene Weed Special Achievement Award for unprecedented and outstanding individual achievement in country music during the past year. During his speech, Blake admitted to the crowd he had no idea what this recognition meant when he found out he was getting it. After Googling "Gene Weed," Blake discovered Willie Nelson was a past recipient, so he assumed it must have something to do with pot. Blake joked that he had to rethink that once he saw Taylor Swift had received that trophy, too.
Miranda Lambert sat by Blake in Ryman's front row for most of the night. She's expected to attend a party toasting her latest #1 hit, "Mama's Broken Heart," Wednesday afternoon in Music City.
Jason Aldean accepted the Crystal Milestone Award in recognition of his recent leap to stadium headliner status. Thompson Square and American Idol finalist Kree Harrison performed hits from The Judds' catalog in recognition of the mother-daughter duo receiving the Cliffie Stone Pioneer Award. Wynonna Judd was on hand to accept the honor. Dierks Bentley honored the night's other Pioneer Award winner, the late Keith Whitley , with a performance of Keith's classic "I'm Over You."
Chris Young led the evening's tribute to the late George Jones with a medley of Jones classics: "The Window Up Above," "The Race Is On" and "He Stopped Loving Her Today."
Copyright 2013 ABC News Radio