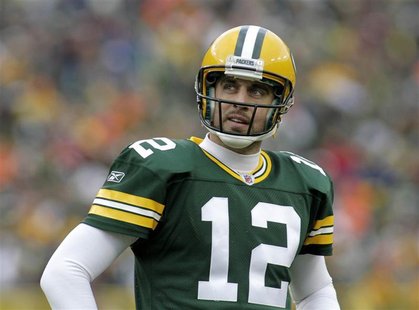 SAN FRANCISCO (TSN-WSAU) - Two different quarterbacks, same results for the San Francisco 49ers last season against the Green Bay Packers.
The two clubs meet for the third time in less than 12 months on Sunday at Candlestick Park, where the 49ers and starting quarterback Colin Kaepernick begin defense of their NFC championship against the Aaron Rodgers-led Packers.
These two NFC heavyweights meet on Kickoff Weekend for a second straight year as the 49ers began their march towards a Super Bowl berth with a 30-22 victory in Green Bay.
San Francisco got over 100 yards rushing and a touchdown from running back Frank Gore, while Alex Smith completed a pair of touchdown throws.
Smith, though, would not be under center when the clubs rematched on Jan. 12 in San Francisco in the divisional playoff round. By then, Kaepernick fever had gripped the Bay area after the second-year quarterback had taken over for a concussed Smith on Nov. 11 versus St. Louis. He went on to win five of seven starts down the stretch and played well enough to keep the job even when Smith -- who was traded to Kansas City in the offseason -- got healthy.
Any ideas that may have been a bad decision were erased in Kaepernick's postseason debut, when he guided the Niners to a 45-31 win over Green Bay. He threw a pair of touchdown passes and also ran for 181 yards, setting an NFL single-season rushing record by a quarterback, while scoring twice with his feet.
Green Bay will try to do a better job of containing Kaepernick on Sunday as it begins its quest for a third straight NFC North title. Niners head coach Jim Harbaugh thinks both clubs are similar to those that faced off in January.
"Definitely tweaks are made, changes are made and anytime you go into a first ballgame I think you have those kinds of questions and lack of full understanding," said Harbaugh of how hard it is to project the changes each club made. "So, a bit of uncharted waters so I think both sides, and any side, going into a first game."
While the 49ers open the season without wide receiver Michael Crabtree due to an Achilles injury, Anquan Boldin will make his regular season debut with the club. He was acquired in a trade over the offseason after helping the Baltimore Ravens beat San Francisco in Super Bowl XLVII.
San Francisco is 13-2-1 at home under Harbaugh, who is looking to become the first coach in franchise history to win on opening day in each of his first three seasons.
The 49ers have won three of their last four openers overall and snapped a nine-game losing streak to the Packers in the regular season with last year's Week 1 win.
That loss also halted head coach Mike McCarthy's five-game winning streak on opening day for Green Bay and the franchise will try to add to its 52 victories in Week 1. That is second all-time behind only Chicago's 53.
"I'm looking to make a jump in the win column," said McCarthy of this weekend's matchup. "That's really what the goal is, to win the football game."
The Packers, coming off their fourth straight season of at least 10 wins, tying a club record, are 9-4 in September over the last four seasons.