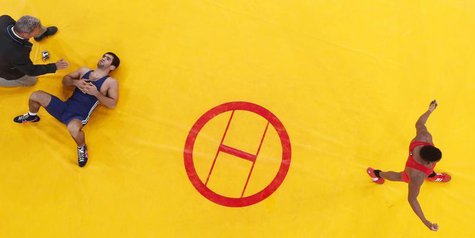 By Karolos Grohmann
BUENOS AIRES (Reuters) - Wrestling officials played down an official reprimand and added some Hollywood glitz to their campaign to get the sport back into the 2020 Olympics with support from American actor William Baldwin on Friday.
Wrestling was reprimanded by the IOC for breaking campaigning rules last month when Japan wrestling officials contacted IOC members by mail to support the bid after a set deadline.
"We were the first to notice it and immediately informed the IOC," international federation (FILA) president Nenad Lalovic told a news conference.
"We were informed by the IOC that the issue is closed now and that we reacted in the right way."
Wrestling lost its Olympic spot in February before making it back to a shortlist, along with squash and softball/baseball, in May. The IOC will select the winning bid on Sunday.
Wrestling featured in the ancient Games as well as every modern edition apart from 1900 and February's exclusion triggered a wave of wide-reaching administrative, rule, gender and sporting changes.
TROUBLED WATERS
"It was a journey over troubled waters but we now see the port, the harbor," said Lalovic, who took over after the sport's shock exclusion and has been credited with turning its fortunes around quickly.
Wrestling is now seen as the favorite and the changes have earned it a thumbs-up from several top IOC members.
The other two sports in contention have not garnered the same glowing support from the Olympic movement.
Wrestling also benefited from a wave of backing from the sport's powerhouses, including the United States, Russia and Iran, as well as senior politicians in many countries, including Russia's Vladimir Putin.
Asked whether wrestling's Olympic background and funding gave them an advantage of their rivals, Lalovic said: "Maybe we have a little advantage but they had four years to prepare their bid whereas we had just a few months.
"We have less experience in bidding as it is the first time in 3,000 years that we are bidding," Lalovic said.
Actor and producer Baldwin, a long-time wrestler, patiently waited on the sidelines before being mobbed by dozens of media crews after the news conference.
"I have wrestled my entire life and I have always been involved in the sport," he told Reuters.
"It is absolutely crucial for the sport to return to the Games and it would be a gift from the IOC to bring wrestling back to the Games."
Tokyo, Istanbul and Madrid are bidding to host the 2020 Olympics and a decision will be announced on Saturday.
(Reporting by Karolos Grohmann; Editing by Ed Osmond)