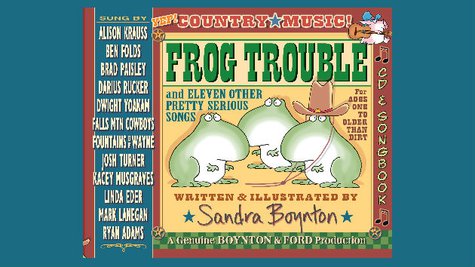 Brad Paisley , Darius Rucker , Kacey Musgraves and Josh Turner are among the stars singing for the pre-school set on a new country-flavored children's book and album called Frog Trouble . Celebrated children's author Sandra Boynton wrote the songs to appeal to parents as well as their kids, and that's a big plus for Brad. It turns out his sons, Huck and Jasper , are big fans of Sandra's work.
Says Brad, "It's nice to have kids music that you like in the car that's entertaining for an adult as well, 'cause there are those kids channels that make me wanna tear my hair out."
That frustration with bad kids music is what inspired Sandra, who is a mother of four, to start writing albums like Frog Trouble in the first place.
"There's no reason children's music should sound any different if you're hearing it in the next room," Sandra tells ABC News Radio. "There's no way you should be able to say, 'Oh, that's a kid's song.' If so, I think the producer, singer has made a mistake. I think it should sound like any other song."
Following that philosophy has earned Sandra Boynton three gold albums so far. When she started working on the country project, Sandra heard certain artists' voices in her head as she wrote the songs. For example, she heard Brad Paisley singing the song "Copycat" as she wrote it. She then produced a demo of the song with Brad in mind. That method of writing the song with each artist in mind has a way of making the artists agree to contribute to Sandra's projects.
Sandra says, "I think that once the artist hears the demo that I send, I think because I've heard them in my head, I've gotten partway -- I think they tend to connect with the song I send them."
Alison Krauss and Dwight Yoakam are also featured on Frog Trouble , which is available as a songbook with the CD attached. The songs are also available at iTunes. A video for Josh Turner's song, "Alligator Stroll," will be out in the coming weeks, too.
Copyright 2013 ABC News Radio