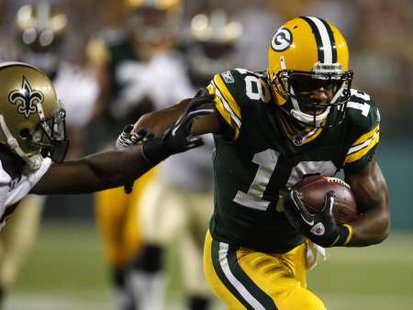 The Green Bay Packers will be without one of their top playmakers for at least the next eight games after the team placed wide receiver Randall Cobb on injured reserve with a designation to return on Tuesday. Cobb reportedly broke his right fibula when taking a helmet to his leg from Baltimore safety Matt Elam while making a catch near the end of the first half of Sunday's 19-17 win over the Ravens.
As an IR/designated to return player, the third-year standout will not be eligible to play until the Packers' Week 15 matchup at Dallas on Dec. 15.
The injury could be a significant blow to Green Bay, which improved to 3-2 with Sunday's defeat of the Ravens. Cobb was leading the team with 29 receptions while compiling 378 yards and two touchdowns through the first five games, and also serves as the Packers' primary punt returner.
Additionally, fellow wideout James Jones' status for this week's clash against Cleveland is uncertain after he hurt his left knee in the Baltimore game.
The Packers promoted two players from their practice squad. Myles White & Jake Stoneburner, both undrafted free agents, were placed on the 53 man roster yesterday. To make room Cobb and OL Greg Van Roten were placed on the IR. Van Roten has an injured foot.