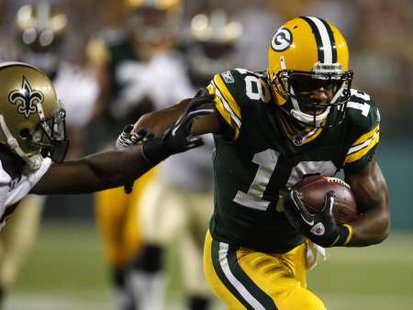 GREEN BAy, Wi (LEARFIELD-WSAU) Media reports say Green Bay Packers' receiver Randall Cobb will miss 6-to-8 weeks with a broken fibula suffered on a low tackle below his right knee.
Coach Mike McCarthy would only say yesterday that Cobb is out "multiple weeks," after he was chopped low in the helmet Sunday by Baltimore's Matt Elam. Ravens' coach John Harbaugh defended his rookie safety yesterday, and said he could not understand the criticism about the hit from Aaron Rodgers and other Packer players. Harbaugh said Elam was trying to catch up with Cobb's route the best he could and quote, "To say that it could have been artistically-palatable is hard for me to understand."
Reports also said Packers' receiver James Jones sprained a P-C-L knee ligament, and there's a chance he could play in Green Bay's next game on Sunday at home against Cleveland.
For now, the Packers only have two healthy receivers -- Jordy Nelson and second-year pro Jarrett Boykin. The team is said to be looking at several options to add a receiver -- like promoting Myles White from the practice squad, bringing back rookie Tyrone Walker, or considering an available veteran such as Brandon Lloyd. Yesterday, the Packers' returned receiver Reggie Dunn to the practice squad. Meanwhile, the Packers got thinner at outside linebacker after Nick Perry reportedly broke a foot in Sunday's win over the Ravens. Media reports say Perry could miss 4-to-6 weeks. Coach McCarthy said he was surprised to learn the extent of that injury.