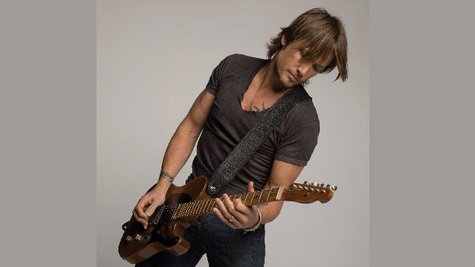 Keith Urban has spent a lot of his own money and time promoting music education over the years. His new line of guitars, Urban Guitar Collection, is an extension of that mission. The acoustic and electric guitars will be sold through HSN starting November 3, and Keith hopes people who would never set foot in a guitar store would feel comfortable buying the guitar through HSN.
He says, "I thought it was kind of cool they could see that at 2 a.m. in the morning and go, 'I've always wanted to play guitar, you know.'"
The guitars come with two one-hour instructional DVDs, guitar strings, a strap, an amplifier and a few other items. The package provides first-time players a way to ease into the guitar world.
"I think some people want to play and to find out if they can, so you can sort of get the guitar and see if it's something that you like," Keith explains. "And if you don't, then no one's freaking out or asking, 'How's the guitar lessons going.'"
Keith will appear on HSN when the guitars go on sale next month. The collection can be purchased on HSN or HSN.com or on the HSN mobile app.
In other Keith news, he took a break from playing shows and judging American Idol auditions to attend a party in Nashville Monday afternoon. The rooftop affair toasted his latest #1 hit, "Little Bit of Everything," and party planners paid tribute to the song title with their food selection. Guests snacked on barbecue, vegetarian dishes, juice and artisan popsicles from Nashville restaurants before watching Keith perform "Little Bit of Everything" with the guys who wrote the song.
Keith is now in Detroit with his fellow Idol judges Jennifer Lopez and Harry Connick, Jr. looking for talent for the show's upcoming 11th season, premiering in January.
Copyright 2013 ABC News Radio