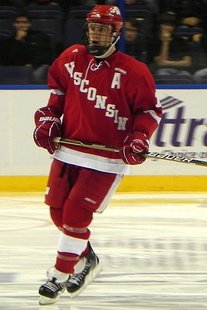 MADISON, WI (LEARFIELD-WSAU) The Wisconsin women's hockey team scored five goals in the final 30 minutes yesterday to beat Minnesota State at home, 5-to-1.
Brittany Ammerman scored twice, as the Badgers swept their first weekend series to go 2-and-0 both overall and in the W-C-H-A. Alex Rigsby had 28 saves for the Badgers, including 15 in third period. Almost 11-hundred people saw the Wisconsin men's hockey team play a scrimmage in Eau Claire yesterday. The Red team overcame a 3-1 deficit to tie the game. Michael Mersch sent the two-period scrimmage to a shoot-out by scoring with 1:04 left.
The Red team then scored three goals in the shoot-out to win 6-3. Wisconsin will open its regular season on Friday night at home against Northern Michigan.