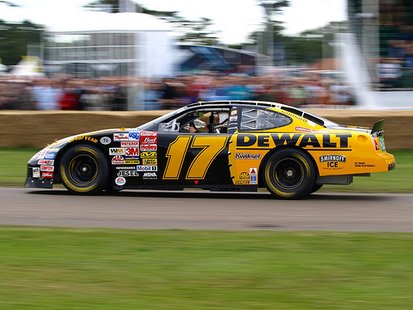 KANSAS CITY (WSAU-Wheeler News) - Wisconsin drivers took the top two spots in yesterday's NASCAR Nationwide Series race.
Matt Kenseth of Cambridge won the Kansas Lottery-300 in Kansas City, Kansas. Paul Menard of Eau Claire was a distant second, after he got around Regan Smith on the final lap. Kenseth took advantage of a controversial crash late in the race that involved Kyle Busch and Brad Keselowski. Both of their teams are locked in a competition for the season owner's championship, and they displayed some previous bad blood that could affect today's Sprint Cup race, the Hollywood Casino-400.
Kenseth stayed above the fray, conserved fuel, and had enough for the end. It was Kenseth's third straight victory at the Kansas Speedway. He'll go for Number-Four this afternoon, as he tries to extend his four-point lead over second-place Jimmie Johnson in Race-Number-Four of the 10-race Chase for the Sprint Cup. Menard will start 8th today. Beloit-born Danica Patrick starts 29th, and Travis Kvapil of Janesville 36th.