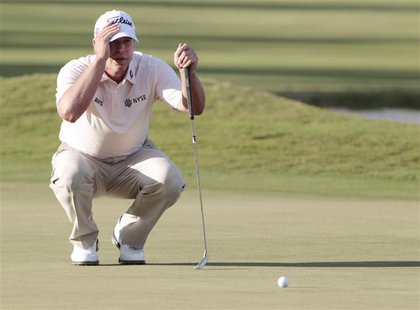 MUIRFIELD, OHIO (LEARFIELD-WSAU) Steve Stricker of Madison will be paired with P-G-A rookie Jordan Spieth on the American squad for today's opening of the President's Cup. They'll face International squad members Ernie Els and Brendon de Jonge in the day's fourth match of Four-Ball. Each team's captain announced the pairings yesterday.
Twelve golfers from each team will square off in a total of six matches today at Muirfield Village in Dublin Ohio. It's the first time since 1996 that Four-Ball will lead off the President's Cup, which is held every two years.
Stricker hopes to put on a much better performance than he did at the Ryder Cup a year ago, when his singles' loss on the final day caused the U-S to blow a lead and lose to the European team.
Stricker says he's excited about being paired with the 20-year-old Speith, the P-G-A Tour's rookie-of-the-year. Stricker has been paired with Tiger Woods in the last couple international competitions. This time, Woods is teamed up with Matt Kuchar.