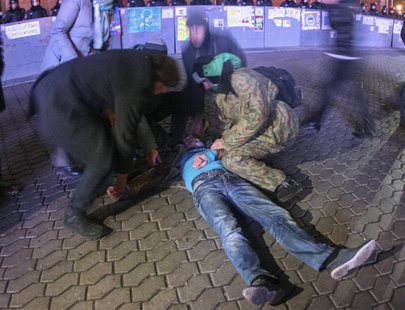 By Richard Balmforth and Thomas Grove
KIEV (Reuters) - Ukraine's political opposition on Saturday said it would call a country-wide general strike to force the resignation of President Viktor Yanukovich's government after police used batons and stun grenades to break up pro-Europe protests.
Helmeted police bearing white shields stormed an encampment of protesters in Kiev's Independence Square as they sang songs and warmed themselves by campfires, the opposition said.
Tension had been building since Friday, when Yanukovich declined to sign a landmark pact with European Union leaders at a summit in Lithuania, going back on a pledge to work toward integrating his ex-Soviet republic into the European mainstream.
Live bands had played earlier and the presence of mainly young people, some of whom were in their teens, had brought almost a party spirit to the demonstration when police moved in, first firing stun grenades and then wading in with batons.
TV footage showed police beating one young woman on the legs and kicking young men on the ground. Several people were given emergency treatment on the spot for cuts to the head.
The Interior Ministry said the riot police moved in "after the protesters began to resist the (ordinary uniformed) police, throwing trash, glasses, bottles of water and flares at them".
Opposition leaders, who late on Friday had urged protesters to continue campaigning for a European future for the ex-Soviet republic, condemned the police crackdown and said it would call a country-wide strike.
"We have taken a common decision to form a headquarters of national resistance and we have begun preparations for an all-Ukraine national strike," former economy minister Arseny Yatsenyuk, one of three opposition leaders, told journalists.
They wanted the resignation of the government and early parliamentary and presidential elections to force out President Viktor Yanukovich, he said.
Police detained 35 people but later released them, it said. There were no hard figures on how many people were hurt.
"By my count we are talking of tens of cruelly beaten people, perhaps hundreds," Andriy Shevchenko, an opposition deputy, was quoted as saying by Interfax news agency. "It was absolute savagery."
Yanukovich said he had declined to sign the EU pact as the cost of upgrading the economy to meet EU standards was too great and that economic dialogue with Russia, Ukraine's former Soviet master, would be revived.
The protests evoked memories of the "Orange Revolution" of 2004-5 against sleaze and election fraud which doomed Yanukovich's first bid for the presidency. But those protests took place peacefully without police action and Saturday's violence was unprecedented in Kiev.
The events set the scene for possibly more confrontation on Sunday when a pro-Europe rally has been called. About 100,000 people turned out at a similar gathering last Sunday.
'NO LONGER UKRAINE'
The protesters were mainly young supporters from the main three opposition parties - including that of jailed former prime minister Yulia Tymoshenko - who are united in pressing for a westward shift in policy towards the European Union.
Tymoshenko, who the EU sees as a political detainee, issued a call for people "to rise up" against Yanukovich.
"Millions of Ukrainians must rise up. The main thing is not to leave the squares until the authorities have been overthrown by peaceful means," she said in a letter read to journalists by her daughter.
Police cleared away anti-Yanukovich posters and political graffiti and took down flags and banners, including the EU blue and gold standard, before sealing off the area.
After the police action, the remnants of the protest, about 100 people, shifted to St. Michael's cathedral - a 12th century monastery destroyed by Soviet authorities in 1937 and rebuilt after independence in 1991.
"We gathered here after riot police beat us and chased us out of the square. It's the only safe place we could go to," said Roman Tsaldo, 25.
Ustim Kholodnyuk, 19, said he was knocked unconscious by police and finally crawled away from the square on his hands and knees. "People took me here in a taxi so at least I would be safe somewhere," he said.
Yatsenyuk said Yanukovich's U-turn on the EU had left Kiev firmly in the orbit of Moscow, comparing Ukraine's situation to that of neighboring Belarus which has been under one-man rule since 1996.
"Ukraine has woken up in a different state after Yanukovich refused to sign in Vilnius. It is no longer Ukraine. It's closer to Belarus," he said.
Heavyweight boxing champion turned opposition politician Vitaly Klitschko said: "After the savagery we have seen on Independence Square we must send Yanukovich packing."
"They undermined the agreement (with the EU) so as to untie their hands for outrageous behavior which would be unthinkable by European standards," said Klitschko, a likely contender for the presidency in 2015.
At least four people were beaten by police earlier on Friday, including a Reuters cameraman and a Reuters photographer, who was bloodied by blows to the head by police.
(Additional reporting by Pavel Polityuk; Editing by Janet Lawrence)