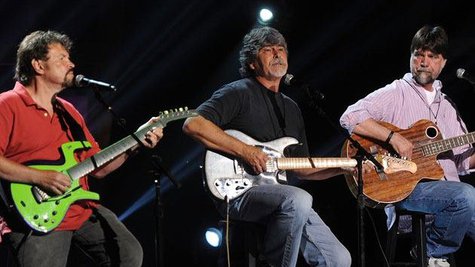 J ason Aldean , Luke Bryan and Florida Georgia Line all pay tribute to Country Music Hall of Famers Alabama in a new one-hour concert special set to air next week on Great American Country.
"For me, they were the Beatles ," Jason says. "Watching the reaction those guys got from the crowd was part of the reason I wanted to be an entertainer."
Luke agrees. "They were perfectly poetic for a southern person. They may be big stars but they felt like the guys down the street," he recalls. "They knew who their audience was and spoke right to them."
For the special Jason chose to sing "Tennessee River," while Luke delivers "Love in the First Degree." Florida Georgia Line covers "I'm in a Hurry (and Don't Know Why). The special also features other artists who appear on the recent Alabama & Friends tribute CD, including Trisha Yearwood and Eli Young Band . The members of Alabama also reunite to debut a new song, "All American."
The show premieres Wednesday, November 27 at 9:00 p.m. ET on Great American Country.
Copyright 2013 ABC News Radio