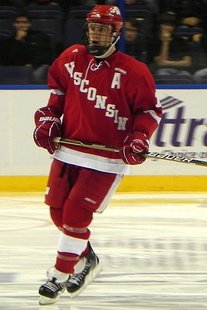 MIAMI, OH (WSAU) - The Wisconsin Badger Hockey team played well, but didn't get the win in the series opener at Miami of Ohio Friday. The final score was 2-0.
The Badgers kept the Redhawks scoreless in the first period, and yielded a goal in the second as Anthony Lewis scored with 10:51 on the clock. Miami got their last goal near the end of the game when the Badgers pulled goalie Landon Peterson to put an extra attacker on the ice. Austin Czarnik scored for the Redhawks at the 19:50 mark.
Landon Peterson had 34 saves for the Badgers. His counterpart, Ryan McKay had 30 saves for the Redhawks.
The two teams drop the puck again Saturday evening at the Goggin Ice Center's Steve Katy Arena in Oxford, Ohio. Pregame activities can be heard on WRIG 1390 AM and 93.9 FM at 5:30 p.m.
The Wisconsin women beat Northeastern of Colorado in Vail 3-2. They play again today.