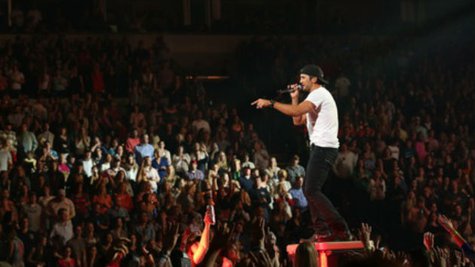 Luke Bryan is a favorite to take home the Entertainer of the Year trophy at Wednesday night's CMA Awards thanks in large part to his sold-out Dirt Road Diaries tour. The trek recently wrapped up after several months on the road with special guests Thompson Square and Florida Georgia Line . There's no doubt this is the tour that cemented Luke's reputation as country music's newest superstar.
Speaking of the trek, Luke tells ABC News Radio, "I mean, it's been unbelievable. Unbelievable. To roll in and be sold out and the urgency of people to be hunting down scalpers, you know, stuff like that."
With all that success, Luke admits he has gone through some growing pains with his long-time fans. The number of people attending his pre-show meet-and-greets has grown by leaps and bounds, leaving him less time to really interact with his fans.
Says Luke, "I mean, one fan, they were like, 'We didn't feel like you gave us enough time at meet-and-greet.' I was like, 'Honey, there was 140 there.' I'm like, 'I'm sorry. We'll make it up to you.'"

In addition to performing on the 47th Annual CMA Awards Wednesday night, Luke is also getting up early to perform on ABC's Good Morning America Wednesday. The show will broadcast live from the plaza at Nashville's Bridgestone Arena that morning. Also, don't miss Luke opening up about the loss of his late brother and sister on a special edition of ABC's 20/20 , In The Spotlight with Robin Roberts , Tuesday night at 10 ET.
Copyright 2013 ABC News Radio