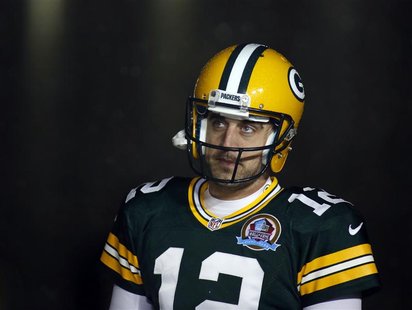 UNDATED (WSAU) ESPN is reporting that Aaron Rodgers has a slight fracture of his collarbone and will miss about three weeks. Adam Schefter of ESPN.com says the Packers star will undergo additional tests today. Other sources say because of swelling last night, Rodger's injury was difficult to evaluate and he could be out for a longer period of time.
The team has not confirmed the report, and has not discussed a timeline for Rodger's return.
The star quarterback was injured on the opening drive of last night's 27-20 loss to the Bears. He was tackled while scrambling and landed hard on the turf on his non-throwing shoulder. Rodgers walked to the bench under his own power and was taken to the locker room. He did not return to the game, but appeared on the sideline in street clothes in the second half.
The Packers will have more to say about Rodger's injury during coach Mike McCarthy's news conference at approx 4:45pm CT this afternoon.
Back-up Seneca Wallace struggled, but said he'll improve with more practice. If Rodger is out for the next three weeks he'd miss games against teams that are all below .500, the Eagles, Giants and Vikings.
With last night's loss, the Bears, Packers and Lions are in a three-way tie in the NFC North standings. Each team is 5-3 overall and 2-1 against division opponents.