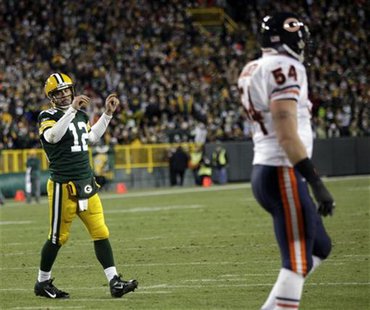 GREEN BAY, Wis (WSAU-TSN) Football's oldest rivalry resumes in Titletown for the 185th time on "Monday Night Football" when the Green Bay Packers aim for their seventh straight win over the Chicago Bears.
Both teams come in banged-up but Green Bay has won four consecutive games and sits atop the NFC North after Aaron Rodgers completed 24-of-29 passes for 285 yards and connected with wide receiver Jordy Nelson for two touchdowns (11 and 76 yards) in an easy 44-31 win over hapless Minnesota back in Week 8.
"Aaron and I were able to connect and make some big plays," said Nelson. "We're two guys that communicate a lot to one another. We're students of the game, we try to be detailed at what we do and make sure we're on the same page."
The Bears have had extra time to prepare for this one and will be coming off a bye week but will be without starting QB Jay Cutler and star linebacker Lance Briggs.
Veteran signal caller Josh McCown will make his first start this season after completing 14-of-20 passes for 204 yards with one touchdown and a 119.6 passer rating in relief of the injured Cutler during a 45-41 loss to the Washington Redskins on Oct. 20.
"Josh has been in the league for a long time," said Bears tackle Jermon Bushrod. "He's played a lot of games. He has a lot of experience. So we're excited about the opportunity."
Perhaps they shouldn't be, however.
Rodgers and the Packers converted on 13-of-18 third-down attempts and were two-for-two on fourth down against the Vikings as Green Bay never punted and scored on all seven drives that didn't end either the half or the game.
And understand Green Bay did all of that without the services of receivers Randall Cobb and James Jones -- two of their top three outside the numbers threats who were lost to injury against the Baltimore Ravens on Oct. 13 -- and dynamic tight end Jermichael Finley, who suffered a scary neck injury during a win over Cleveland on Oct. 20.
Cobb has a fractured fibula and may return near the end of the season, while Finley was released from the ICU last Monday after being diagnosed with a bruised spinal cord, something that will keep him on the sidelines indefinitely. Jones, who has a knee sprain, is expected back soon.
Three of the seven Green Bay receivers who played against Minnesota appeared in their first game a week earlier. One of those players, Jarrett Boykin, who had eight catches for 103 yards and a score in his debut, registered five grabs for 89 yards versus the Vikes.
"We've got a great team, very well-coached," Rodgers said. "Guys are ready to play."