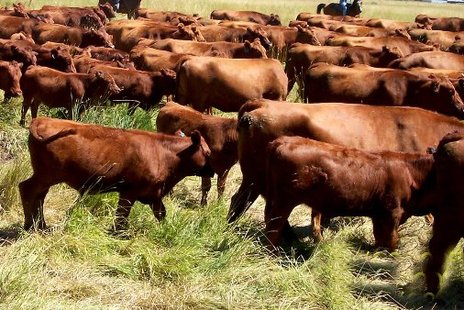 GLEASON, WI (WSAU) - We often hear about volunteers and humane groups that take care of dogs and cats in distress.... but who takes care of the bigger animals? There is an organization in central Wisconsin that does that. It's called Cattle Rescue Incorporated, and is a non-profit organization started by Bill Blemke about four years ago.
One of the rescuers is Michelle Henry, who says there's not a lot of places that will take in 20-30 cows at a time, but they do.
Sometimes they get reports of animal neglect. Many times, Henry says it's just people struggling to provide for their farm animals. The lack of hay this winter has made feeding livestock difficult.
Henry says most of the time, they care for livestock by taking over the feeding and vet care for the owners that can no longer afford to provide for them. Once in awhile, she says they get cattle that are too malnourished to save. When that happens, the animal is processed and the meat helps needy people by going to food pantries in the county where the animal came from.
Cattle Rescue Incorporated has cared for about 200 animals over the past four years. They have about 50 head under their care now. Henry says they are not all at the same place. She has 13 cattle her her Gleason farm, and there are six other farms that have other animals under their care.
It's not always cattle that need these volunteers. Henry says they've taken care of horses, donkeys, and even a turkey named Tom.
The group recently rescued a cow that was malnourished, and they didn't realize she was pregnant. Henry says the surprise calf is doing just fine.
Anyone interested in helping Cattle Rescue Incorporated can find them on Facebook. Monetary donations are welcome at any Associated Bank location.