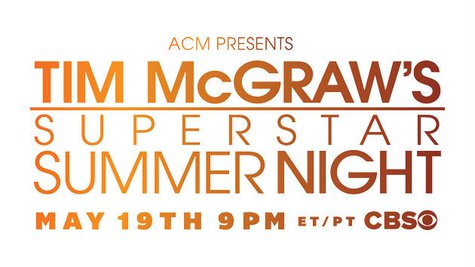 The ACM Presents: Tim McGraw's Superstar Summer Night special airs Sunday night, and fans can expect to see top country stars like Jason Aldean , Luke Bryan and, of course, Tim McGraw , on the show. Stars from the pop and R&B world are well-represented too with Nelly performing the "Cruise" remix with Florida Georgia Line . Tim also shares the stage with Ne-Yo and Pitbull on the show. Luke says the resulting set list looks an awful like some of the playlists he has on his personal iTunes collection.
Says Luke, "I feel like so many country fans out there, they're rocking out to Nelly too, and Nelly's going to be here. It's a great thing that so many genres can come together, and it's based around country. And I think it's fun for the fans."
Tim had a big hand in selecting which stars would appear on the show with him, and Pitbull was a pop star he definitely wanted on the bill. Tim and his wife Faith Hill first met Pitbull at the Grammy Awards earlier this year.
Tim explains, "He came up and introduced himself to me and we started talking, and when we walked away, I told Faith that, 'That's just a real guy there, a really genuine guy.'"
Tim was also really impressed with Pitbull's smooth dance moves at the show taping last month in Las Vegas.
"I'd throw something out if I tried to move like that," Tim says with a laugh, "but he brought so much energy to the stage."
Faith Hill, Lady Antebellum , Brantley Gilbert , Keith Urban , Taylor Swift and rock legend John Fogerty also perform on ACM Presents: Tim McGraw's Superstar Summer Nights , airing Sunday night at 9 ET on CBS.
Copyright 2013 ABC News Radio