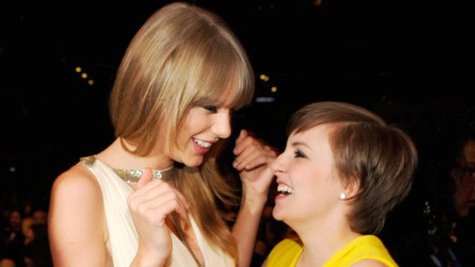 Taylor Swift and Lena Dunham , the creator and star of the award-winning HBO series Girls , have a mutual admiration society going on Twitter, but now it appears as though they've taken their friendship offline and into -- gasp! -- the real world.
Life & Style magazine reports that both Taylor and Dunham attended the star-studded Met Gala in New York City on May 6, and then afterwards, they grabbed a late dinner together. According to an insider, it was Lena who made the first move, telling Taylor that there was a "really cute diner" by her house, where they could have "like, salads and stuff."
Not long ago, Taylor said she was "floored" to learn that Dunham was a fan of hers.
"When I found out that she listens to my music...it absolutely floored me," said Taylor. "It made my day, honestly. So, I think, to me, for there to be someone with that creative of a mind and that impressive writing talent, for someone like that to listen to my music it was a real, really good day for me."
Taylor doesn't just like Dunham and Girls; she's also a fan of Dunham's boyfriend, Jack Antonoff . He's the guitarist in the band fun. , and Taylor told Billboard that they're one of her favorite bands right now.
Copyright 2013 ABC News Radio