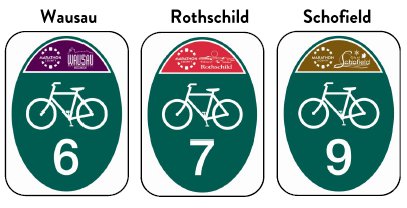 WAUSAU, WI (WSAU) - You will soon see lots of new signs along streets and trails in the Wausau area. That's because the Wausau Metropolitan Planning Organization unveiled their new 100-mile metro bicycle route and sign system yesterday.
A series of designated streets will have over 622 bike route signs placed along them in Weston, Schofield, Rothschild, Rib Mountain, and Wausau, giving peddlers an interconnected series of bicycle approved routes. The main loop is a 26 mile route through the Wausau Metro known as The Central Loop.
The signs are already going up around the area and more will be erected over the next several weeks.