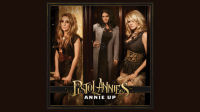 As Pistol Annies get ready to Annie Up with their second CD, they admit they didn't put a whole lot of thought into the all-girl group that's turned into something of a phenomenon.
"We're just country girls having fun really," Angaleena Presley laughs.
"We didn't go into it thinking, 'We're gonna change history," Ashley Monroe asserts. "We just went into it like, 'We've got to do this. We can't not do this.' It's too special. It's too important to us."
"We have to cut these songs, because who the hell could we pitch 'em too?" Miranda Lambert jokes. "You know what I mean?"
Without Miranda's success, Angaleena says Pistol Annies would never have been able to write and record such edgy material.
"She's like a pioneer way before we were a pioneer. I mean, she got 'Gunpowder and Lead' on the radio for goodness sakes. I remember hearing that song on the radio, and me as a songwriter in Nashville writing all these songs that all these people were like tucking their tails and running away from. I heard that song on the radio, and I had to pull over and just, like, thank God."
But you shouldn't think that Pistol Annies set out to write controversial songs.
"When we write, it just happens," Ashley says. "There's a Guy Clark song called 'Some Days You Write the Song, Some Days the Song Writes You.' The song writes us every time...And then afterwards we listen to it and we'll get chills and go, 'Oh my God.'"
"It's always like we don't really realize it's happening," Miranda chimes in.
Pistol Annies will back up Annie Up 's Tuesday release date with same-day appearances on NBC's Today show, and the Late Show with David Letterman on CBS.
Copyright 2013 ABC News Radio