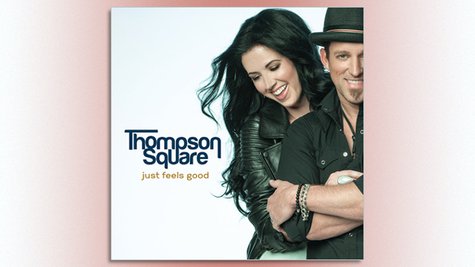 Thompson Square 's Keifer and Shawna Thompson rocketed to stardom quickly over the past few years, and the story of that journey is told on the duo's sophomore album, Just Feels Good . Being on the road with the likes of Jason Aldean , Lady Antebellum and, now, Luke Bryan , have had a big impact on the album's sound too
"We kind of stretched out on this album," Keifer tells ABC News Radio. "We wanted to play around with a lot more different sounds. So, sonically, this is not going to even closely resemble the first album. It's completely different as far as from a sonic standpoint. It's just a 2.0 version of us."
That experimentation even led Shawna to rap on the new song "Testing the Water," but the entire project is grounded in Keifer and Shawna's shared experiences.
Says Keifer, "You can actually sequence the album to the point where it starts when we very first get together on a song called 'That's So Me and You' all the way to 'What Am I Gonna Do,' which is a song about Shawna's dad that we just lost."
Since those songs they wrote are so personal, any songs that came from outside writers had to reflect Keifer and Shawna's story too.
"That's what you have to have when you find outside songs because people are writing for their experience," Keifer explains .

Thompson Square will support their new album with a concert at Livestream.com Thursday at 4 p.m. Eastern.
Copyright 2013 ABC News Radio