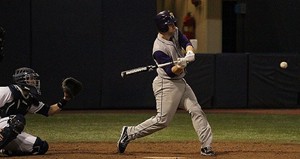 AUBURNDALE, FL (UWSP) – Ryan Schilter (West Bend, WI/West)knocked in four RBI and the UW-Stevens Point baseball team topped Southern Maine 13-8 Sunday.
Nick Prebelski (Green Bay, WI/Notre Dame) earned the win for the Pointers by pitching 3.1 innings out of the bullpen and allowing just one run while striking out three. Schilter finished 3-for-5 with a double and two runs in addition to his four RBI.
Both Riley Spetz (Sevastopol, WI/Sevastopol) and Brandon Kranz(Waukesha, WI/West) finished 3-for-4 with two runs and an RBI in the win. UWSP overcame a 5-0 deficit in the first inning to tally three runs in the second inning, five in the fifth, two in the eighth.