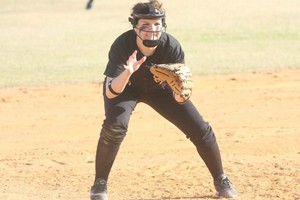 CLERMONT, FL. – The UW-Stevens Point softball team held off a late game charge by Western Connecticut in game one and powered past St. Kate's in game two Saturday to earn a pair of victories and extend its winning streak to eight games.
The Pointers plated two runs in the top of the first inning as Paige Meulemans (Appleton, WI/Kimberly)' knocked in Jordon Schreiner(Kaukauna, WI/Kaukauna) and Katie Shulfer (Stevens Point, WI/SPASH).
In the top of the second Schreiner roped a three-run triple to right field give UWSP the 5-0 lead heading into the third frame. Katie Krueger (Plover, WI/SPASH) gave the Pointers the 6-0 lead, belting a solo home run to center field to lead off the third inning. Western Connecticut pulled together a late game charge, scoring three runs in the fifth and one in the sixth, but the Pointers defense shut it down to secure the 6-4 victory. Michelle Jones (Madison, WI/La Follette) earned the win in the circle, pitching 6.1 innings and striking out five. Schreiner led the Pointers at the plate, going 3-for-4 with three RBI's. Brittany Sass (Appleton, WI/East) and Shulfer each tallied two hits in the win. Game Two Box ScoreAgainst St. Kate's the Pointers used back-to-back, two-out RBI's by Kendall Nelson (Tomahawk, WI/Tomahawk) and Sass in the third inning to secure the 5-2 victory.
The Pointers got on the board early, scoring two runs in the bottom of the first, when Schreiner powered the ball over the centerfield fence, soring Sass. St. Kate's responded in the top of the second, knotting the game at 2-2. In the home half of the third Hahnemann singled to right field, scoring Shulfer, which proved to be the game winning run. The Pointers added two insurance runs in the inning as Nelson and Sass both knocked in runs.
Jones picked up her second win of the day on the mound in 1.2 inning of work. Kali Riddell (Bloomington, IL/University) earned the save, pitching 5.1 innings, allowing just two hits and no runs. Sass led UWSP at the plate, going 2-for-3, with and RBI and a run.
The Pointers return to action on Sunday with a pair of games against Carleton and Loras.