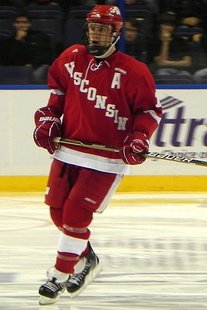 ST. PAUL, MN (WSAU) - Wisconsin hung on to defeat Colorado College in the WCHA Championship game Saturday night 3-2. That gives the hockey Badgers a sixth consecutive victory, an automatic bid to the NCAA Hockey Tournament and the WCHA's Broadmoor Trophy.
Nic Kerdiles had a goal and an assist. Sean Little had a goal for Wisconsin. Tyler Barnes scored with 17 seconds left in the first period the Badgers on top, and they stayed ahead the rest of the night.
Both teams needed to win to move on to the NCAA tournament because their records were not strong enough for an at-large bid.
Along with the Badgers winning the WCHA title, Nic Kerdiles was named the most valuable player of the Final Five. He recorded a goal and an assist Saturday, and scored five goals and 13 assists during the last 11 games.
The 16-team NCAA Hockey tournament field will be announced at 8 p.m. Sunday on ESPNU.