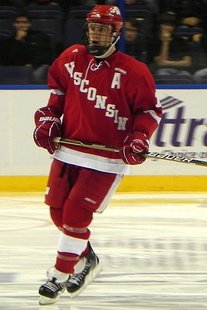 ST PAUL, MN (WSAU) The Wisconsin men's hockey team scored three times in the first eight-plus minutes yesterday. And they cruised to a 7-to-2 win over Minnesota State in the quarter-finals of the W-C-H-A Final Five in Saint Paul.
The Badgers' early scoring rush came against all-conference goal-tender Stephon Williams. Wisconsin then survived the Mavericks' constant efforts to get back in the game. The Badgers kept scoring even while being out-shot 40-to-27.
Jefferson Dahl had a pair of short-handed goals, and Tyler Barnes scored twice for Wisconsin, which improved to 20-12-and-7.
The loss dropped Minnesota State to 24-13-and-3. But with a Number-Eight national ranking, the Mavericks still expect an N-C-A-A bid on Sunday.
The 14th-ranked Badgers, meanwhile, will play top-seeded Saint Cloud State this afternoon in the conference semi-finals.