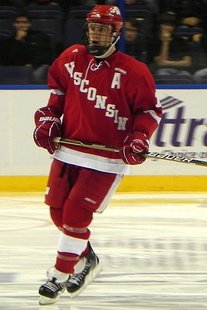 MADISON, WI (WSAU) For only the second time in nine years, the Wisconsin women's hockey team failed to get an N-C-A-A tournament berth. The Badgers – which made the national title game a year ago – was not part of an eight-team field announced last night.
The Badgers had the ninth-highest R-P-I score in the country, and the top-eight made the field.
Wisconsin ended its season at 23-10-and-2, after falling to North Dakota last Friday in the W-C-H-A semi-finals. The last time the Badgers failed to make the national women's tournament was in 2010, when coach Mark Johnson was away coaching the Americans in the Winter Olympics.
Before that, 2004 was the last time Wisconsin didn't make the nationals. Undefeated Minnesota was given the top seed in this year's tournament.
The Gophers – with Madison area native and W-C-H-A player-of-the-year Amanda Kessel – will play North Dakota in the quarter-finals. The Wisconsin men's hockey team will host Minnesota-Duluth in the first round of the W-C-H-A playoffs. The Badgers will open a best-of-three series against the Bulldogs on Friday night at the Kohl Center in Madison.
It's the first time in three years the Badgers have earned a first-round playoff series. The winner will advance to the W-C-H-A's Final Five next week in Saint Paul.
Wisconsin finished its regular season this past weekend in a three-way tie for fourth place, with 33 points. But the Badgers earned the tie-breaker over both Denver and Minnesota for the Number-four playoff seed.
Duluth comes in with the ninth-seed and an overall record of 14-17-and-5. The 14th-ranked Badgers are 17-12-and-7, after splitting their final regular season series with Saint Cloud State.