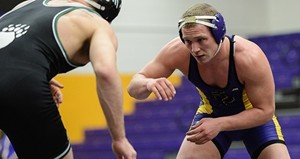 ELMHURST, Ill. (UWSP) - Three Pointers qualified for the 2013 NCAA Division III Championships by placing top-three in their respective weight classes of the NCAA Midwest Regionals on Saturday.
Team Scores
/
Complete Results
/
Conat, Schulte, Strobel advance to NCAA Division III Championships
Ben Strobel
(Neenah, WI/Neenah) placed second at 149 pounds after falling to UW-Whitewater's Elroy Perkin in the championship match, 13-7.No. 7
Jordan Schulte
(Mosinee, WI/Mosinee) advanced to the championship match at 165 pounds, where he narrowly fell to Cedric Gibson of Whitewater, 3-1.No. 7
Ryan Conat
(New London, WI/New London) also competed for a championship at 174 pounds, but lost to Kevin O'Brien of UW-La Crosse, 5-2.Strobel, Schulte and Conat will each compete in the NCAA Division III Championships in Cedar Rapids, Iowa beginning Friday, March 15.