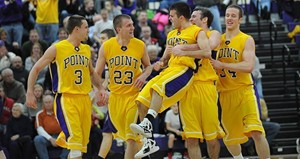 STEVENS POINT, WI (UWSP) - Jordan Giordana (Kaukauna, WI/Kaukauna) and the UW-Stevens Point men's basketball team dominated the second half en route to defeating Northwestern College 71-54 in the first round of the NCAA Division III Tournament.
Pointers advance to second round of NCAA Tournament with 71-54 win over Northwestern
Giordana scored 20 of his game-high 22 points in the second half while shooting 5-for-6 from behind the arc in the period.The Eagles (21-7) opened the game with a hot hand and grabbed a 16-6 lead while connecting on four 3-pointers less than six minutes into the game. Following a timeout, Trevor Hass (New London, WI/New London/Augustana (SD)) came up with a steal and layup to start a 12-2 run for the Pointers (22-4). Another layup from Hass tied the game 18-18 with 7:05 left in the first half.In the final seconds of the first half, DeVon Jackson(Milwaukee/Rufus King/Williston State) grabbed an offensive rebound and beat the buzzer with a short jumper to give UWSP a 30-27 lead at halftime.
Giordana opened the second half by connecting on a trio of free throws after he was fouled while attempting a 3-pointer.Hass gave the Pointers their first double-digit lead of the game at 42-32 4:10 into the second half when he came up with another steal and layup.Giordana hit a 3-pointer in consecutive possessions to increase the UWSP lead to 59-43 with 6:17 left in the game.
The Pointers outscored the Eagles 41-27 in the second half.Jackson finished as the game's second-leading scorer with 17 points off the bench. Hass added 13 points.Tom Gisler led the Eagles in scoring with 16 points.UWSP will play Calvin College in the second round of the tournament on Saturday, March 9.