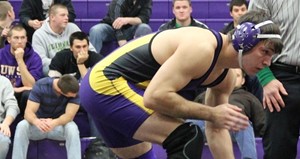 STEVENS POINT, WI (UWSP) – The UW-Stevens Point wrestling team, ranked No. 9 in the Brute National Wrestling Coaches Association Division III ranking, has five members receiving All-Wisconsin Intercollegiate Athletic Conference honors.
Five Pointers earn All-WIAC wrestling honors
Ben Strobel (Neenah, WI/Neenah) and Dustin Wozniak (Stanley, WI/Stanley-Boyd) earned First Team honors, while Jamey Simmons (Abbotsford, WI/Abbotsford), Jordan Schulte (Mosinee, WI/Mosinee) and Ryan Conat (New London, WI/New London)earned Second Team honors.
Strobel posted a 28-7 overall record at 149 pounds, and Wozniak, ranked No. 5 nationally at 197 pounds, has a 29-5 mark. Strobel had two impressive win-streaks on the season, one of which lasted nine matches and the other reached eight.Wozniak recorded 12 pins during the season, including a stretch of four consecutive pins at the Budd Whitehill Duals at Lycoming College.Both Strobel and Wozniak were dominant in the WIAC Championships on Feb. 17. Strobel finished the tournament 4-0, with three wins coming via pin. Wozniak finished 3-0 with one win coming via major decision.Simmons is 19-10 at 157 pounds and Schulte, ranked No. 7 nationally at 165 pounds, is 23-8. Simmons tallied ten pins on the season and Schulte recorded eight major decisions to go along with eight pins.Conat, ranked No. 7 nationally at 174 pounds, opened the season with 25 consecutive wins en route to a 27-3 record.UWSP (17-8) Head Coach
Johnny Johnson
was named the Wisconsin Intercollegiate Athletic Conference Mertz Mortorelli Coach of the Year shortly after the WIAC Championships.The Pointers will compete in the NCAA Division III Midwest Regional Saturday, March 2 in Elmhurst, Ill.