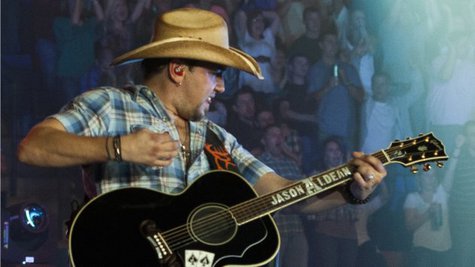 Jason Aldean fans should be very happy with Wednesday night's CMT Music Awards. In addition to co-hosting the show with actress Kristen Bell , Jason's also opening the show performing with his new friend, rocker Lenny Kravitz . Jason met Lenny through some mutual friends, and they've really hit it off in the past few months.
" I had a chance to go down to the Bahamas a couple months ago, hung out with Lenny Kravitz for awhile," Jason says. "Kind of wrote some songs and just kind of got to spend some time getting to know him."
Since that initial visit, Jason and Lenny have kept in touch over the telephone. Jason is excited to be reunited with his buddy onstage on live television.
He says, "It's gonna be a great way to kick the show off, and it's gonna be loud. That's what I can tell you."
Jason is also set to debut his brand-new single, "Night Train," on the CMT Music Awards.
As for co-hosting the show with Kristen Bell, Jason is more excited than nervous for his first time helming the big event.
"I like doing things that I've never done before," Jason says. "So, the fact that this is my first time, I'm definitely looking forward to it."
Kristen co-hosted the CMT Music Awards with Toby Keith last year, so she's prepared to help Jason keep it all together.
Says Kristen, "I think that when you see someone mess up or something offbeat happens, that's what makes the show interesting."
Jason adds, "It's all in how well you recover, I think."
The 2013 CMT Music Awards broadcast live from Nashville at 8 p.m. ET on CMT and CMT.com.
Copyright 2013 ABC News Radio