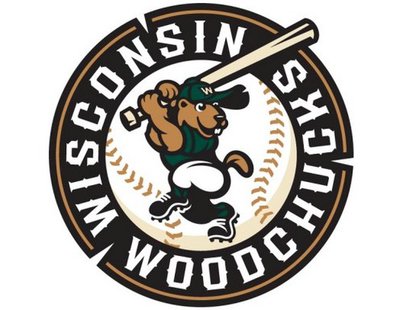 The Woodchucks would use a grand slam by Matt Tellor and a four-hit night by Tyler Steib to knock off the Eau Claire Express by a score of 14-7.
Tellor would get the scoring for the Woodchucks in the top of the first. With Brandon Krieg on second and one out, Tellor doubled deep into the right-center field gap to bring home Krieg and give the Woodchucks a 1-0 lead.
After the Express would tie the game at one in the bottom of the inning, the Woodchucks took the lead back in the second. With runners on first and third and no outs, Jimmy Correnti lined a ball to third base off the glove of Jake Cole, scoring Ian McCloughlin and putting the 'Chucks up 2-1. The 'Chucks would tack on two more in the inning, including one on an RBI double by Tyler Steib to take a 4-1 lead.
But the Express had a four-run inning of their own in order. With two on and two out, Matt Menard singled to bring home Mike Porcaro and Brooks Bielke and cut the Woodchucks lead to a run. Later in the inning, David Diaz-Fernandez would single home another run, and an additional would score on a throwing error to put the Express up 5-4.
That is when Tellor struck again. After a Krieg walk loaded the bases, Tellor launched a monster shot over the right-center field wall, the deepest part of Carson Park, for a grand slam. The slam put the 'Chucks on top 8-5 in the fourth.
The Express would counter with two runs of their own in the fifth to make it a one-run game. After a Jake Cole RBI single, Brian Sicher would fly out to right, bringing home another run and cutting the Woodchucks lead to 8-7.
Steib's outstanding night would continue in the sixth. With Tyler Adams on second and one out, Steib would double, bringing home Adams and putting the 'Chucks on top 9-7. Steib would add another single and a run in the eighth when he scored on a two-run single by Krieg that put the 'Chucks up 12-7. Krieg would also score on a two-run single by McCloughlin to make it a 14-7 game, and that would be the final.
Starter Anthony Dixon would pick up the win for the Woodchucks, and Alec Crawford would be assessed the loss for the Express. The two teams will be back at Carson Park Monday at 6:35 for the final game of the two-game series. The game will be heard on Fox Sports Radio AM-1390 FM FM-93.9 starting at 6:15pm.
- - - - - - - - - - - - - - - - - - - - - - -
Also on Sunday, LaCrosse beat Wisconsin Rapids, 10-3.