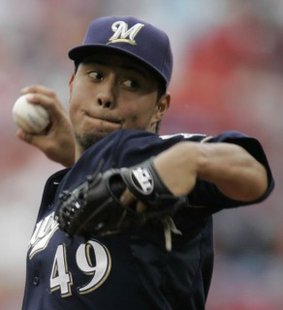 PHILADELPHIA, PA (WSAU-Sports Network) - Jonathan Lucroy went 5-for-5 with two home runs, four RBI and three runs scored to lead the Milwaukee Brewers to an 8-5 win over the Philadelphia Phillies in the opener of a three-game set at Citizens Bank Park.
Yuniesky Betancourt went 3-for-5 with an RBI, while Aramis Ramirez, Carlos Gomez and Jeff Bianchi each drove in a run for the Brewers, who had dropped a season-high six straight games entering the contest.
Yovani Gallardo (4-5) gave up five runs on six hits -- three homers -- and three walks while striking out six over 5 2/3 innings.
Domonic Brown finished his torrid May campaign by slugging a pair of homers and driving in four runs. Brown batted .308 with a league-leading 12 home runs and 25 RBI for the month.
Jimmy Rollins added a pair of hits, including a solo homer, and scored two runs for the Phillies, losers in four of their last six games.
Cole Hamels (1-9) continued to struggle this season, giving up seven runs -- six earned -- on 12 hits while striking out three to absorb his sixth consecutive loss.
May was not as kind to Hamels, who finished the month 0-6 with a 4.95 earned run average.