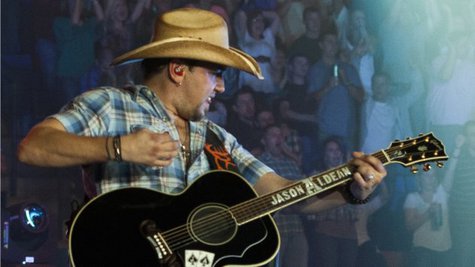 Jason Aldean still can't believe he's the headlining act for two sold-out shows at Boston's Fenway Park Friday and Saturday night. He's already played a sold-out show at Sanford Stadium in Athens, GA this year, and he'll follow those gigs up with a concert at Chicago's Wrigley Field on July 20. Before this year, Jason had only attended these kind of stadium shows as a fan or an opening act.
Jason recalls, "I was the guy going to all those stadium shows looking around, going, 'God, this must be awesome.' You know, and now [I'm at] at a point in my career where we're able to go do that is just incredible."
There aren't many country artists that can attract crowds big enough to fill these stadiums, and Jason thinks it's crazy he's now in that elite group. "The couple that come to mind are George Strait and Kenny Chesney . Garth obviously could do it, but there wasn't a lot of guys that could go out and do those things," says Jason.
Miranda Lambert is on the bill with Jason for his shows in Boston, and his "Don't You Wanna Stay" duet partner Kelly Clarkson will perform a set before his Chicago show. Jake Owen and Thomas Rhett will be featured on all the shows.
Copyright 2013 ABC News Radio