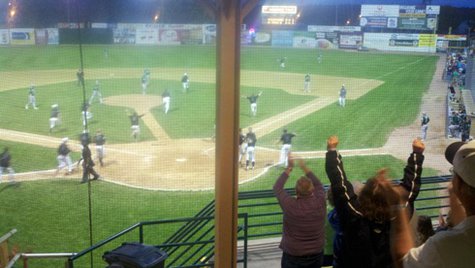 WAUSAU, Wis. (WSAU-Woodchucks) -- The Wisconsin Woodchucks used 14 hits including Josh Goossen-Brown's second grand slam in four days to defeat the Green Bay Bullfrogs 12-8.
The Bullfrogs started the game with a run of their own in the first inning. Jimmy Coady came into score when Boomer White hit a ground out to first base giving the Bullfrogs an early 1-0 advantage. The Woodchucks rallied in the first inning as they plated three runs in the inning all with two outs. A Levi Meyer double down the right field line brought in John Clay Reeves and Josh Goossen-Brown on the play. Austin Diemer brought home Meyer with a double of his own down the right field line to give the Woodchucks a 3-1 lead.
The Bullfrogs cut the deficit to one thanks to a Trevin Sonnier single up the middle that brought home Ryan Drobny on the play. The Woodchucks tacked on two runs in the bottom of the fourth inning to distance themselves from the Bullfrogs and never look back. Rob Bennie would hit a double this time over the center fielder's head to bring home Meyer. Bennie came into score when Kirby Taylor beat out a bunt single where an arid throw from Bullfrogs' pitcher Matt Freeman allowed Bennie to score on the play.
Jimmy Coady caught the Woodchucks sleeping in the top of the third inning when he stole home when Danny Young tried appealing at second base to see if Coady left the base early in the previous play. A two-out opposite field home run that landed in the Bullfrogs' bullpen from Sonnier would cut the Woodchucks' lead to one now leading just 5-4.
With the bases loaded in the bottom of the sixth inning, Josh Goossen-Brown would widen the 'Chucks lead to five as he hit a grand slam over the left field wall. It was Goossen-Brown's second grand slam in the last four games.
The Bullfrogs would try to rally in the top of the seventh inning after scoring three runs to trail 9-7 but a Garrett Rucker double to right field in the bottom of the seventh plated two runs to distance the lead to 11-7. Each team scored one run in the eighth inning to give the Woodchucks a 12-8 lead which would be the final in Tuesday's game.
The victory was given to Austin Orewiler after he pitched one and one-third innings to receive his first victory of the 2013 season. The loss was awarded to Bullfrogs' starting pitcher Matt Freeman as he surrendered five runs in four innings pitched. Max Ising was awarded the two-innings save in the victory.
The Madison Mallards make their way to Athletic Park on Wednesday night as they take on the Woodchucks. First pitch is scheduled for 6:35 p.m. with the gates opening at 5:35.