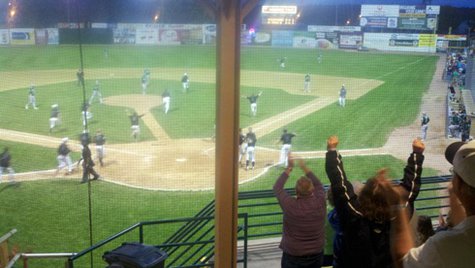 WAUSAU, Wis. (WSAU-Woodchucks) -- Rob Bennie's second home run of the night over the right field wall in the bottom of the ninth gave the Woodchucks a 3-2 victory over the Battle Creek Bombers. A broken bat single by Woodchucks' catcher John Clay Reeves bringing home Tyler Stieb gave the 'Chucks an early 1-0 advantage.
A single by Bombers' designated hitter Drew Carlile, in the top of the sixth inning, brought home Matt Fears to even the game at one. Rob Bennie would come up to bat with the game tied in the bottom of the seventh inning and with one swing of the bat give the Woodchucks a 2-1 advantage. In their next at-bats the Bombers would tie the game up at two thanks to a home run from Greg Velazquez.
The first batter for the Woodchucks to walk up to the plate in the bottom of the ninth would be Bennie and he delivered again as he hit his second homerun of the night with a blast over the right field wall. The Lakeshore Chinooks come to Athletic Park on Saturday night to begin a two-game series against the Woodchucks. Come out and see the Russian Bar Trio! First pitch is scheduled for 6:35 p.m. Saturday with gates opening at 5:35 p.m.