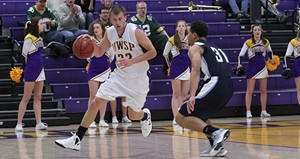 PLATTEVILLE, WI (UWSP) - The UW-
Stevens Point men's basketball team suffered its first conference loss
of the season when it fell to UW-Platteville Wednesday night, 54-46.
Box Score
The Pioneers opened the game on an 8-0 run, but the Pointers stormed back as a three pointer by
Trevor Hass
(New London, WI/New London/Augustana (SD)) brought UWSP to within 14-13 with 2:57 remaining in the first half.UWSP (18-3, 11-1 WIAC) trailed 17-13 at halftime.Platteville (15-6, 8-4 WIAC) claimed a game-high 15 point lead midway through the second half when Chas Cross hit a pair of free throws to put the Pioneers on top 35-20.
Joe Ritchay
(Wisconsin Rapids, WI/Lincoln)'s jumper with just under three minutes left in the second half brought UWSP to within 44-38, but that's as close as the Pointers would get.Hass led the Pointers in scoring with 12 points and Ritchay followed with 10.Cross led all scorers with 16 points.UWSP shot a season-low 30.6 percent from the floor.The Pointers travel to UW-La Crosse Saturday, Feb. 2 for a 3 p.m. tipoff with the Eagles.